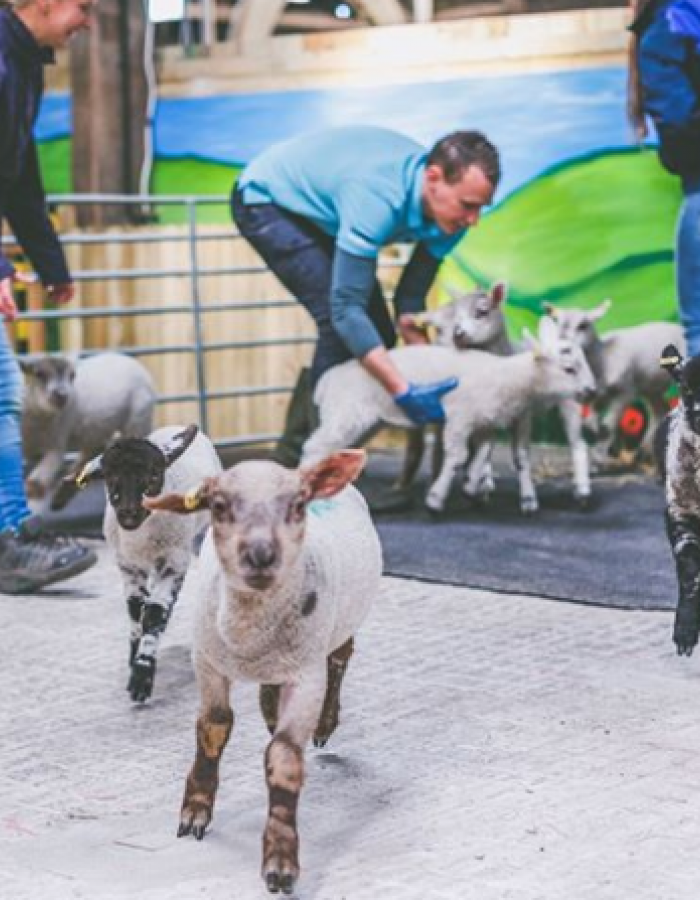 Admission Prices
We offer concessions to our disabled guests and their carers visiting the park. Check here for up to date entry prices. Please bring proof of disability entitlement such as a blue badge or benefits entitlement letter as this is helpful for staff on reception as disabilities are not always apparent. Accompanying carers can enter the park free of charge. Please be aware that we have no further concessions available on charges incurred inside the park.
Parking
We have one main single story car park in front of the farm park entrance. This car park is concrete and there is a concrete ramp up to the main entrance.
There is also a gravel car park for The Cow Restaurant next to the farm park with access to the side entrance of the Farm Park. The gravel is slightly less wheelchair friendly than concrete.
Both car parks have a dedicated disabled parking section which are clearly signposted and intended for blue badge holders. These are limited and available on a first come, first serve basis.
Floodlights cover both car parks.
Please be aware that we do not tolerate any pets being left in cars and will contact the RSPCA or police if we have any welfare concerns.

Toilets
Please see our park map to locate the toilet block across the park. The block is fully accessible and has two dedicated unisex disabled/baby changing toilets. Lights are always on.
Disabled Changing Room
We have a new disabled changing room, complete with toilet and electronic Therapy Mat Table, available for adults and children. The electronic Therapy Mat Table lowers to a minimum height of 46 cm and rises to a maximum height of 100 cm. There is no hoist.
Pathways
The majority of the park is accessible via concrete pathways. The farm park is relatively flat and where there is gradient we have wide slopes with hand rails and anti slip flooring.
Wheelchair Hire
We do not provide wheelchairs – however we have one available in a first aid emergency.
Guide Dogs
We welcome well behaved assistance dogs to the Farm Park. We ask that you notify us of any assistance dogs on reception. All assistance dogs MUST be kept on a lead or harnessed. Assistance dogs cannot be taken into any indoor soft play areas, the Wallaby Walkabout, or the meet the animals area in the Animal Barn (please see Map). We allow assistance dogs in the paddocks but please me mindful that there are animals in this area. Please make sure you clean up after your dog due to children playing. If in doubt, please speak to a member of staff.
Please be aware that we do not tolerate any pets being left in cars and will contact the RSPCA or police if we have any welfare concerns.
First Aid
We always have a number of first aid trained staff on duty and with multiple kits around the park, can treat most injuries at the scene. We have a portable defibrillator on site. Please speak to any member of staff if you require assistance. Please note we are not authorised
to administer medication nor do we store drugs anywhere on park.
Park Vehicles
Rarely but on some occasions, we may have park vehicles operating on site during the day. Vehicles will either be escorted by a member of staff or have a loud buzzer sounding when the vehicle is in gear. Only trained members of staff can drive our park vehicles and adhere to our strict 5mph policy. Our vehicles will always give way to pedestrians.
Emergencies
In the case of a fire emergency situation, we have an alarm that sounds in our buildings. Staff will be on hand to direct guests to the nearest Assembly points and sweep the park after an evacuation. All senior staff carry mobile phones.